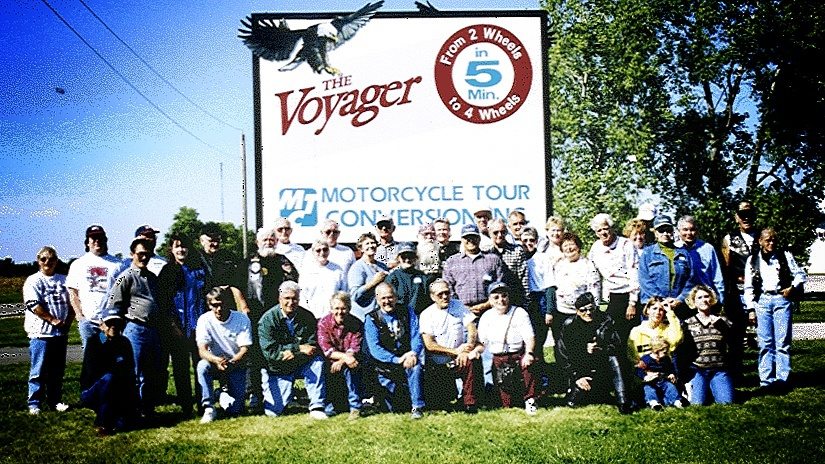 Charles Monroe set eyes on the Voyager trike kit in 1997, fell in love with the product, and bought the rights to develop and improve the concept. The rest is history.
The Voyager, since 1998, has been the #1 selling convertible trike kit. Starting in a small facility, Charlie built an American made company that now supports fifteen employees, works out of a 39,000-square-foot building and is dedicated to motorcycle fun, freedom and the pursuit of happiness.
Since a Voyager trike kit gives you both a trike-like ride and saves you money, we are finally able to answer the question, "Is riding a trike better with or without an extra ten grand in your pocket?"
    Date                       Moment
1997 May
Motorcycle Tour Conversions is incorporated.
1997 June
First Voyager built and installed on a motorcycle for testing and trials.
1998 May
Business operations in full swing at Rt. 47 location in Morris, IL.
1998 June
First Voyager sale installed on a Honda GL 1500.
Voyager signs first US dealership.
1998 July
Voyager attends Wing Ding for first time.
1998 August
Voyager's first print advertisement (Wing World Magazine).
Voyager attends Sturgis Rally for first time.
Cosmetic update, Voyager introduces longer metal fenders.
1998 November
Voyager attends International Motorcycle Shows for first time.
1999 January
Suspension update, outside dual shock suspension.
1999 March
Voyager attends Daytona Bike Week for first time.
1999 May
Voyager attends Myrtle Beach Bike Week for first time.
1999 June
Voyager attends Americade for first time.
1999 August
Company picnic (Starved Rock State Park).
1999 October
Voyager attends Biketoberfest for first time.
2000 March
Independent engineering firm beings strain and stress testing on frame (Datasyst).
2000 May
Voyager introduces fiberglass flared fenders.
2000 July
Suspension update, inside dual shock suspension.
2000 September
Company picnic (Morris, IL).
2001 September
Company picnic (Morris, IL).
2003 March
Voyager introduces fiberglass rear assembly.
2004 January
Semi-truck and Nascar-style trailer acquired to attend rallies.
2004 June
First fleet sale to Columbus Police Department (Ohio).
2004 July
Voyager develops "How to Ride" video.
2005 April
Construction for a larger facility begins.
2005 October
Second fleet sale to Pittsburgh Police Department (Pennsylvania).
2006 January
Voyager moves into larger facility in Ottawa, IL.
In-house paint department opened.
2007 February
Voyager introduces new low style rear mud guard for trike.
2007 May
Additional 14" wheel option becomes available.
2007 August
Suspension update, distribution of solid (single-piece) suspension forks begins.
2007 December
First distribution of the fiberglass Voyager rear assembly.
2008 January
Bearing receiver update, solid one-piece with non-threaded rod.
2010 February
Suspension update, rubber shock mount suspension.
2010 May
15" wheel series introduced.
2010 August
Suspension update, lock bar updated to suspension lock block system.
2011 September
In-house fiberglassing department opened.