Americade
June 3rd – 12th, 2016
Voyager is heading northeast this June! It's been a few years since we've traveled to upstate New York for Americade, so stop by our booth, ask us questions, demo a Voyager, and have it installed right there in under 4 hours*! We will be located at the Warrensburg Fairgrounds.
Warrensburg Fairgrounds
353 Schroon River Rd.
Warrensburg, NY 12885
If you would like to schedule an installation ahead of time, call us at (815) 434-7900 to make sure we bring all of the parts for your motorcycle. We fit over 150 different bikes and never know what make or model could show up at the booth.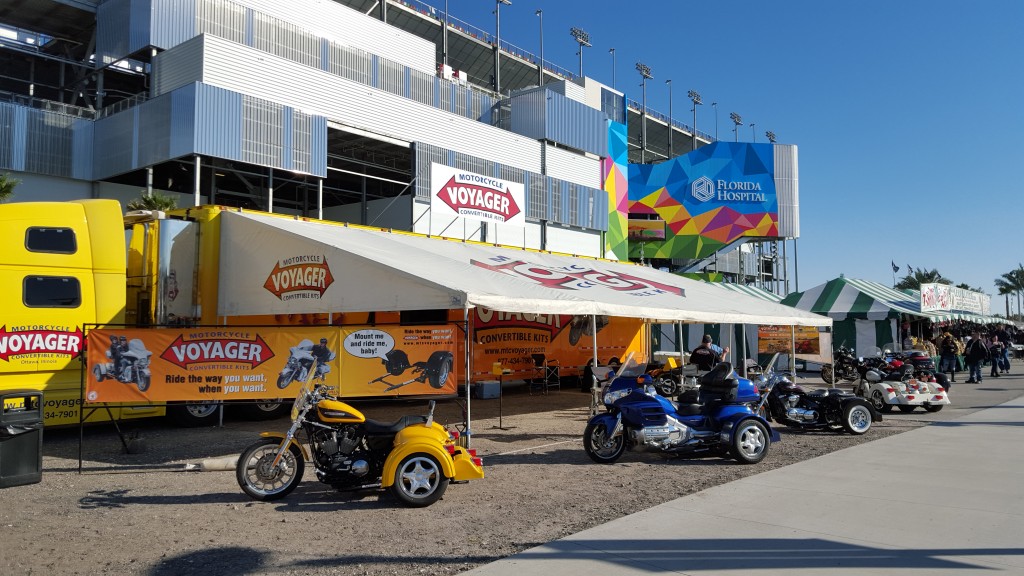 *We can install your Voyager in 2-4 hours without motorcycle complications. If you are having difficulty finding our location, call our road crew at (815) 715-5112. The only colors we carry on the truck are a raw primer gray and a finished, clear-coated black. Installation costs range from $100 to $300. NY sales tax applies to all sales.
---
Come see us from June 3rd to June 12th. Our booth will be open from 9am – 5:00pm (depending on traffic).
---
Click on the kit style below to see more details:
---
Get your reverse installed at the rally for $1,295.00, plus tax and installation. We will only have a limited amount of Reverse kits on the truck, so get it installed early to guarantee living the easy life.
---
Each Voyager trike kit includes fenders, a rear guard, mounting hardware, suspension hardware, trailer hitch, rims and tires, heavy-duty frame, free technical support, and a one-year warranty. Each trike kit comes in your choice of finish - clear coated black or raw primer gray. Prices are subject to change. Freight charges, installation charges and sales tax vary. All prices in USD ($).